Three world leaders were received in the Cameroonian capital on the day of November 26, 2019. They are Moussa Faki Mahamat, Louise Mushikiwabo and Patricia Scotland, respectively President of the Commission of the African Union, Secretary General of the Organization International Francophonie and Secretary General of the Commonwealth.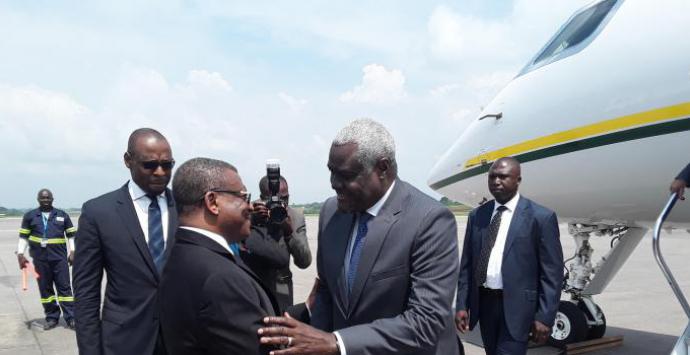 The three leaders are on Cameroon soil as part of a three day joint mission to hold discussions with the Cameroonian authorities from November 27, 2019. The Prime Minister has alternately welcomed them at Yaounde Nsimalen airport. The first to step on Cameroon soil was the President of the African Union Commission, HE Mr. Moussa Faki Mahamat, who arrived at 12.30 pm by special flight. He was received by the Chief of the Government, Chief Joseph DION NGUTE, then led to the lounge of honor for a few minutes of relaxation, before moving to the Hilton hotel in Yaounde where he will take up his quarters.
In the evening, the Prime Minister, Head of Government, make a second trip to Nsimalen, this time, to welcome Louise Mushikiwabo and Patricia Scotland who boarded an Air France flight together, which arrived in Yaoundé at 9:00. The welcome ceremony was the same for these illustrious visitors as their predecessor. Short stop at the Salon d'honneur, then departure for their hotel where they will settle around 10pm.
The next day, the day began with an audience with the Prime Minister, Head of Government at the Star building. The Joint Mission held a one-and-a-half hour exchange with Prime Minister Dion Ngute during which both parties discussed various issues related to their trip to Cameroon. The discussions being held behind closed doors, the Prime Minister's hosts left without confiding in the press.
The visit is taking place in a particular context marked by the Anglophone crisis, after the Grand National Dialogue and the convocation of the electorate for the twin elections, Municipal and Legislative billed for 9th February 2020.
One can logically think that these institutions have come to mark their willingness to support Cameroon in the resolution of the crisis and to a lesser extent, lend their support to the elections in perspective.