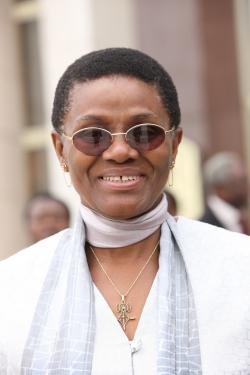 ABENA ONDOA née OBAMA Marie Thérèse
Minister of Womens Empowerment and the Family
THE MINISTER OF WOMEN'S EMPOWERMENT AND THE FAMILY is responsible for the preparation and implementation of Government measures related to the promotion and respect of women's rights and the protection of the family.
To this effect, he is charge of:
- ensuring the elimination of all discrimination against women
- ensuring increased guarantees of gender equality in all fields of activity;
- studying and submitting to Government conditions to ease the employment of women in all areas of activity;
- studying and proposing strategies and measures to strengthen the promotion and protection of the family;
- studying and proposing measures to promote and protect children's rights.
- He is the link between Government and the United Nations Development Fund for Women (UNIFEM) in liaison with the Ministry of External Relations as well as with all national and international political organizations for women's empowerment.
She supervises women empowerment structures, with the exception of institutions under the Ministries in charge of education.