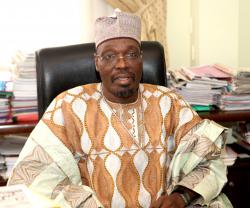 ISSA TCHIROMA Bakary
THE MINISTER OF EMPLOYMENT AND VOCATIONAL TRAINING
THE MINISTER OF EMPLOYMENT AND VOCATIONAL TRAINING is tasked with elaborating and implementing Government's employment, training and professional integration policy.
As such, he is in charge of:
- elaborating the employment and vocational training policy;
- conducting studies on employment trends and the job market;
- conducting studies on employment qualification trends;
- promoting the creation of jobs;
- defining training and professional integration programmes in collaboration with the administrations and organs concerned;
- defining organizational standards for education systems and professional qualification, and supervising their application;
- designing and organising short cycle training activities;
- orientating and ensuring placements;
- organising and monitoring the professional integration of trained youths;
- organising retraining activities for active workers and those that have lost their jobs;
- monitoring the adaptation of training to employment;
- ensuring relations with professional enterprises and organisations in collaboration with Relevant ministries;
- monitoring and supervising vocational training structures in collaboration with the Relevant ministries.
He monitors the activities of intervention organs with regard to job development.
He oversees the National Employment Fund (NEF).