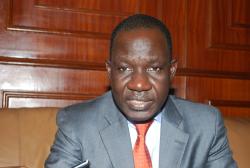 ALAMINE OUSMANE MEY
Minister of Economy, Planning and Regional Development
I PERSONAL IDENTIFICATION
 Name: Alamine
Family Name:OUSMANE MEY
Birth date:26/02/1966
Place of Birth :KOUSSERI
Sexe: Male
Civil Status : Married
Citizenship :Cameroonian
 II PROFESSIONAL EXPERIENCE
 Since December 2011           Minister of Finance
 Since February 2004                        Chairman of Cameroon GATSBY FOUNDATION /
Sister Trust of the UK based NGO GATSBY CHARITABLE FOUNDATION
Since December 2003           General Manager Afriland First Bank
Since February 2003                        Chairman of the Board of CENAINVEST
( Central African Venture Capital Fund )
Since 2003                             Chairman of the board
( VETAGRI ? A veterinary company based in Chad) 
Since 2000                             Board Member of the following companies
- SAFAR S.A., An Insurance Company in Chad
- CCIC S.A., A Soap Manufacturing Industry in Cameroon
- SACONETS S.A, A Telecommunication Cie in Cameroon
- SOIL & WATER S.A., Geotechnical Investigation LAB
- INTELLIGENTSIA., Electronic Card Business
Since 1998                             Chairman of CENAINVEST?s Management & Investment
Committees ( A Joint Venture between FMO and
CCEI BANK )
Since 1998                             Member of the NGO ADAF
Approprite Development for Africa Foundation
2000 to 2003                          Member of the board of Cameroon GATSBY Trust
2003 to 2004                          Deputy General Manager at  Afriland First Bank
1999 to 2003                          Director of Research and Investment at CCEI BANK
1997 to 1999                          Head of Project Department at CCEI BANK
1996 to 1997                          Head of Division for Industrial and Tourism Projects
CCEI BANK Cameroon
                        * Feasibilty Studies
                        * Project Evaluation & Restructuring
                        * Promotion and Raising of Venture Capital Funds
                        * Asset & Liability Management
                        * Research and Development of new banking products
1994 to 1996                          Credit Analyst at CCEI BANK B.P. 11834 Yaoundé
1992 to 1993                          Assistant Engineeer at ASEA BROWN BOVERI
MANNHEIM - GERMANY
 Trainingship
 '' ELEKTOTECHNIK EIMERS '' in HAMMINKELN GERMANY
             - Three months training 1986
  '' STAWAG '' Electricity Production & Distribution in AACHEN
             - One month training 1992
 '' ABB HENSCHEL MANNHEIM '' 1992-1993
 l Traction System Simulation with PSPICE Sofware.
            l Design and Production of a Command and Control Unit for Insulated Gate Bipolar
                Transistor (IGBT) converters in train.
            l Study of the harmonics problem on Train between Karlsruhe and Pforzheim
 III ACADEMIC BACKGROUND
            A) UNIVERSITY
         Finance
 1998    Equity Finance - Risk Capital / Tunis - TUNISIA 1998
 1997    Certificate in SME & SMI Financing in developing countries  (UFSIA ? ANTWERP UNIVERSITY IN BELGIUM)
         Engineering
 1993    Electrical Engineer from AACHEN POLYTECHNICS UNIVERSITY
(Federal Republic of Germany)
             B) SECONDARY SCHOOL
1985    '' GCE Advanced Level ''
            Mathematics and Physics
            Lycée of Garoua
1983    '' Probatoire ''
            Mathematics and Physics
            Lycée of Garoua
1982    '' Brevet ''
            CES of Garoua
IV OTHER APTITUDES
             ( i ) Mastering of Computer Hard- and Software
Systems                                : WINDOWS, MS DOS, UNIX
Spreadsheet                          : EXCELL, LOTUS 1-2-3 Smartsuite
Text Processing                    : WINWORD, WORDPERFECT, WORD
Network Simulation             : PSPICE, NEURAL WORKS
Network Design                   : AUTOTRAX, AUTOSKECH
Financial Software               : EBP, Financial Analyst, DELTA
Presentation Software          : POWERPOINT
            ( ii )Mastering of Languages
 Fluent in         : French, English, German, Kotoko and Fulbé
 Average in      : Spanish and Arabic
 V PUBLICATIONS
 l Final Year B. ENG Degree in Electrical Engineering. Dissertation titled : '' Experimental Analysis of various IGBT ( SIEMENS, FUJI, TOSHIBA ) Behaviour on pulse converter for auxiliary power conversion '' ABB HENSCHEL at MANNHEIM
l Project Study : '' Simulation of a Step Down Converter considering parasitic effects with the Simulation's Program PSPICE '' Aachen University
 l Project Study : '' Study of Convergence issues related to electrical machine Models with the neuronal Program packet NEURAL WORKS ''. Aachen University
 l Risk Capital and the issue of financing business / GICAM Bulletin - September 2000.
 l Promoting and Financing SME & SMI in Africa / ILO October 1999
 VI WORKSHOPS / SPEAKER
 -          Cameroon Diaspora in Germany & Development / Francfort ? Germany 2007
-          US Ambassadorial Conversation in Washington DC / Mai 2006
-          EU related Conference on Cameroon Diaspora and Development / Yaoundé 2005
-          Young Leaders and Africa Future / Dakar 2005
-          How to Reach the Masses in Difficult Banking Environment / Amsterdam 2005
-          Lessons from Venture Capital Activities / Marrakech 2003
-          Investing In Africa / The Hague ? Netherlands  2003
-          Convergence & Divergence of the financial systems in francophone & anglophone Africa / ACCRA 2002
-          New Information and Communication Technologies / Yaoundé Catholic University March 2001
-          Impact of Equity Finance on African  Economies / Cape Town 2001
-          Venture Capital in Cameroon / CENAINVEST?s Experience / Tunisia - October 2000.
-          The Fundamentals of Credit Management for Microfinance Institution Managers (Dschang / January 2000 ).
-          Financing Civil Engieering Activities / Yaoundé 2000 ( European Union / MINTP )
-          Communication and Sales Strategies /  CCEI BANK - Kribi 1999
-          Business Culture Development / CCEI BANK ? Yaoundé 1999
 VII WORKSHOPS / PARTICIPANT
 -          US Department of State program on International Visitor and Leadership / 2008
-          German Federal President Initiative Conference/ Germany 2007
-          AVCA Conference on Private Equity in Africa / Dakar 2006
-          Governance, Management & Leadership Seminar (Shore Cap Exchange) / Washington DC 2006
-          Venture Capital Seminar / February 2003 in Yaoundé - Cameroun
-          Venture Capital & Development / Cape Town 2001
-          Equity Financing in Africa / Tunisia 2000
-          International Money Transfer Seminar / Cape Town 2000
-          Strategy in Modern Economy / Kribi 1999
-          Risk Capital & Equity Finance in Africa / Tunisia 1998
-          Internet Development / Hararé-Zimbabwe 1997
-          Renewable Energies in Africa / Arusha - Tanzanie 1996
VIII  PERSONAL ACHIEVEMENTS
2003    Executif  Member and Treasurer of AVCA ( African Venture Capital Association )
1989    Treasurer of the Cameroonian Association in Aachen - Germany
1990    Sport Coordinator of the African Association in Aachen - Germany
1992    General Secretary of the Cameroonian Association in Aachen
IX     HOBBIES
l READING, MUSIC
l FOOTBALL, SWIMMING, TABLE TENNIS
THE MINISTER OF ECONOMY, PLANNING AND REGIONAL DEVELOPMENT is responsible for the development and implementation of the Nation's economic policy, for planning, and for regional development.
In this capacity, he is responsible for:
In the economic sector:
developing the Multi-Annual Investment Programme of the State;
ensuring the coherence of the country's sector-specific development strategies;
coordinating and pooling studies on projects of national economic interest;
pooling projects and managing the project bank in conjunction with relevant administrative bodies;
promoting public investments;
preparing Medium-Term Expenditure Frameworks and the Public Investment Budget;
managing the public investment budget in conjunction with the Ministry of Finance;
exploring, negotiating, concluding and monitoring execution of loan agreements and conventions in conjunction with the Ministry of External Relations and relevant administrative bodies;
analysing economic trends in the short and medium terms;
drafting fundamental guidelines and strategies for the rehabilitation and privatization of public corporations in conjunction with the Ministry of Finance;
monitoring the coordination of Government's economic and social development policy;
monitoring the coherence and coordination of actions undertaken with various international and bilateral partners in the implementation of economic programs;
monitoring and controlling investment programmes and projects, in conjunction with relevant ministries and the Ministry of Finance;
coordinating and monitoring the implementation of the Growth and Employment Strategy Paper and the Vision 2035;
monitoring economic trends in conjunction with the Ministry of Finance;
monitoring multilateral cooperation notably with the World Bank, the African Development Bank, the Islamic Development Bank and the European Union in conjunction with the Ministry of Finance and the Ministry of External Relations;
monitoring economic and technical bilateral, sub-regional, regional and international cooperation notably, with the Central African Economic and Monetary Community (CEMAC), the Economic Community for Central African States (ECCAS), the United Nations Economic Commission for Africa (UNECA) and the United Nations Development Programme (UNDP) in conjunction with the Ministry of External Relations and relevant administrative bodies.
In the area of planning:
preparing an overall framework for the strategic planning of the country's development;
conducting studies and forward-planning analyses on the country's development in the medium and long term;
planning human resources;
coordinating studies and monitoring population issues.
In the area of regional development:
coordinating and conducting regional development studies both at the national and regional levels;
monitoring the development of standards and rules for regional planning and tracking their implementation;
monitoring and controlling the implementation of national, regional and local development programmes;
monitoring sub-regional organisations in charge of development in conjunction with relevant ministries.
He monitors the activities of the Lake Chad Basin Commission (LCBC) and the Niger Basin Authority (NBA).
It exercises supervisory authority over development or planning authorities, as well as:
- the National Institute of Statistics (NIS)
- the Sub-Regional Institute of Statistics and Applied Economics (ISSEA)
- the Panafrican Institute for Development (PID)
- the Central Bureau for Census and Population Studies (BUCREP)
- the Support Council for the Implementation of Partnership Contracts (CARPA).
The Economic Programmes Preparation and Monitoring Technical Committee is attached to this ministry.
He co-chairs the Inter-ministerial Committee for Privatization and Rehabilitation of Public Corporations.
He is assisted by a Minister Delegate in charge of Planning.