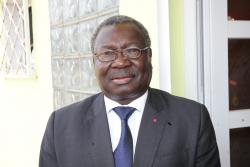 Dr. TAÏGA
Minister of Livestock Fisheries and Animal Industries
Nom :                                                            TAIGA
Prénom :                                                                        
Date de naissance :                                  19 avril 1960
Lieu de naissance :                                    Ngaoundéré
Nationalité :                                      Camerounais
Région :                                                        Extrême - Nord
Département :                                              Mayo-Kani
Arrondissement :                                         Taibong
Profession :                                      Docteur vétérinaire (Hors Echelle)
Statut matrimonial :                        Marié, 06 enfants
Langues parlées et lues :              Français, Toupouri
THE MINISTER OF LIVESTOCK, FISHERIES AND ANIMAL INDUSTRIES is responsible for the development and implementation of Government's policy on livestock, fisheries and the development of animal industries.
As such, he is responsible for:
developing, planning and implementing Government programmes in the livestock sector,
supervising animal industries and fisheries;
developing regulations and monitoring standards, as well as their implementation in the areas of livestock, fisheries, and animal industries;
conducting studies and research for the renewal of animal, fish and fish farming resources in conjunction with the Ministry of Scientific Research and Innovation;
ensuring the quantitative and qualitative improvement of production and yields in the livestock and fisheries sectors;
promoting investments in the livestock and fisheries sectors in conjunction with the Ministry of Economy, Planning and Regional Development and the Ministry of Mines, Industry and Technological Development;
improving sanitary control in maritime, river and piscicultural fisheries;
ensuring the safety of animal and fish products;
protecting maritime and fluvial resources;
providing technical supervision in the areas concerned;
ensuring the implementation of measures for the conservation, development and exploitation of farmed animals and fishery products;
ensuring the collection, production and analysis of statistics on livestock, fisheries and animal industries;
monitoring professional organizations working in the fields of livestock and fisheries;
monitoring the training of human resources in related fields in conjunction with relevant administrative bodies;
monitoring schools and training centres for veterinarians, veterinary workers and related professions, excluding schools which fall under the jurisdiction of Ministries responsible for education.
He exercises supervisory authority over:
The Animal Production Development Company (SODEPA);
The Marine Artisanal Fisheries Development Authority (MIDEPECAM);
the National Veterinary Laboratory (LANAVET).