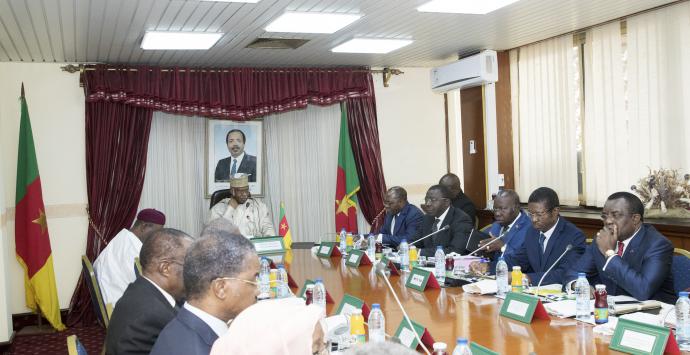 The Prime Minister, Head of Government, His Excellency Philemon YANG, this Tuesday 7 August 2018, chaired the first 2018 ordinary session of the National Decentralization Board at 9 a.m. in the Cabinet Meeting Room of the Star Building. The meeting was attended by his close collaborators as well as Members of Government, Members of Parliament, representatives of the Economic and Social Council, representatives of Municipal Authorities, and representatives of civil society organisations.
Five items featured on the agenda, namely:
A report of the activities of the Permanent Secretariat of the National Decentralization Board (CND) during the inter-session period, presented by the Permanent Secretary of the CND;
A statement by the Minister of Decentralization and Local Development on "The operationalization and priority projects of MINDDEVEL";
A statement by the Minister of Finance on "The provision of resources from the General Decentralization Allocation and local taxes submitted for fiscal equalization, for the 2016, 2017 and 2018 financial years to the different beneficiaries (Local Councils, Urban Councils, Support Structures and wages of Municipal Authorities)";
A statement by the Minister of the Economy, Planning and Regional Development on "The new modalities for resource allocation to local and urban Councils, pursuant to Circular No. 001/CAB/PRC of 20 June 2018 on the preparation of the State budget for the 2019 financial year";
The review and adoption of the draft document on Cameroon's Local Development Index.