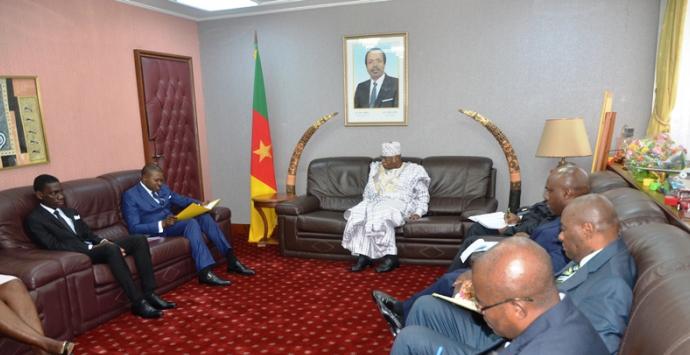 Cameroon has received two continental distinctions in Kigali, Rwanda and Abidjan, Cote d'Ivoire through two young enterprising youths.
Twenty seven year old Monique Ntumngia won the prize for Best Project and Best Pitch in the Youth Connect Africa 2017 held in July 2017 in Rwanda, while sixteen year old Tchoffo Yvon Sebastien Mandela best Baccalaureat student in Cameroon won the third edition of "Espoirs d'Afrique" award in Cote d'Ivoire.
The two laureates were introduced to the Prime Minister during two separate audiences at the Star Building on Monday, September 11, 2017 by the Ministers of Higher Education, sitting in for his colleague of Small and Medium Size Enterprises and that of Secondary Education.
Within the framework of Youth Connect 2017 organised by the Government of Uganda, the UN Conference on Trade and the UN Development Program, Cameroonian born Monique Ntumngia emerged as best promoter of a project on renewable energy out of 100 projects. Prominent among them members of Jury were renowned Nigerian entrepreneur, Tony Elumelu and Jack MA of Ali Baba on-line marketing.
Monique Ntumngia's project is expected to bring key solutions to Africa's energy problems through renewable energy production.
Monique's project, dubbed the Green Girls Energy Project which has trained more than six hundred girls across twenty three communities, competed alongside 2500 delegates from all over the continent.
Tchoffo Yvon Sebastien Mandela the best Baccalaureate student on his part, impressed the jury in Abidjan to snatch the "Espoirs d'Afrique" trophy in a competition that brings together the best students in Central and West Africa.
The Young laureate who was congratulated by the Head of Government said he competed on general knowledge and future prospects in a letter addressed to the Head of State with proposals on the improvement in the civil aviation domain.
His proposal on innovations of the civil aviation domain gave him an edge over the other candidates.
The audiences granted to the two laureates falls in line with the Head of State's message encouraging youths to create, innovate and dare, thereby guaranteeing government support.