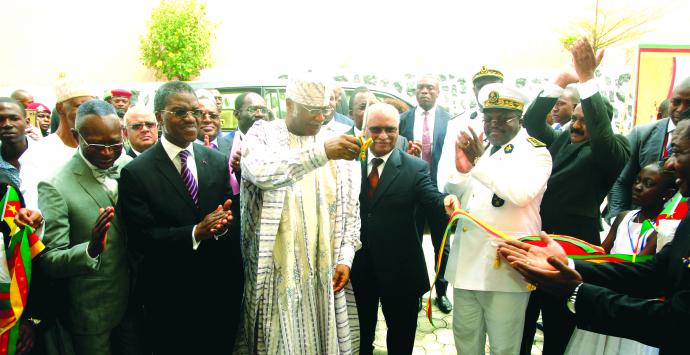 An affiliate of the Indian pharmaceutical firm Africure has been inaugurated in the economic capital by Prime Minister Yang Philemon.
The project, estimated at 16 billion CFA francs, is a fallout of the Africa/Indian forum held in New Delhi in 2013 during which investors were exposed to business opportunities in Cameroon.
Situated in Bwang Bakoko in the Yassa neighbourhood, the pharmaceutical plant will employ 125 persons amongst which 118 are Cameroonians.
Cameroonian patients can hope for better days as Africure Pharmaceuticals intends to manufacture high quality medication in Cameroon by Cameroonians for Cameroonians. According to the CEO, the company aims to help Africa become self-sufficient and reduce shortages in essential drugs.
Besides the pledge to put smiles on the faces of ailing Cameroonians, the Indians are bringing in rich experience and technological expertise which will ensure that all drug manufacturing standards are observed. Estimated at 16 billion CFA francs, the project is a result of the India-Africa Forum held in New Delhi in 2013, during which the Head of Government and his delegation sensitized investors on the attractive business environment in Cameroon.
The project is all the more pertinent as Cameroon imports more than 90% of its pharmaceutical products. In addition to this, only 33 of the three hundred molecules authorized by Government are produced locally. The company is aiming for a turnover of over 100 billion CFA francs and will target neighbouring countries since Cameroon represents only five percent of this market value.
According to the Honorary Consul of India to Cameroon, Ravi Kumar, at a time when foreign exchange is highly needed, the local production of drugs will be beneficial to the country. This project indicates Government's commitment to ensure the health of its populations and to forge ahead with bilateral relations. The win-win partnership between Cameroon and India, he added, will also be extended to the agricultural sector as the Indian Government is injecting some 42 million US dollars to boost cassava production.
The pharmaceutical plant has started manufacturing twenty essential medicines such as painkillers, antibiotics, anti-malarial drugs, and will soon start producing anti-retroviral drugs that will be exported to neighbouring countries.
At the end of the inaugural ceremony, Prime Minister Yang made a brief stopover at the construction site of the Japoma stadium which will host the 2019 Africa Cup of Nations tournament. The project manager reassured the Head of Government that the deadline of September 2018 will be met.