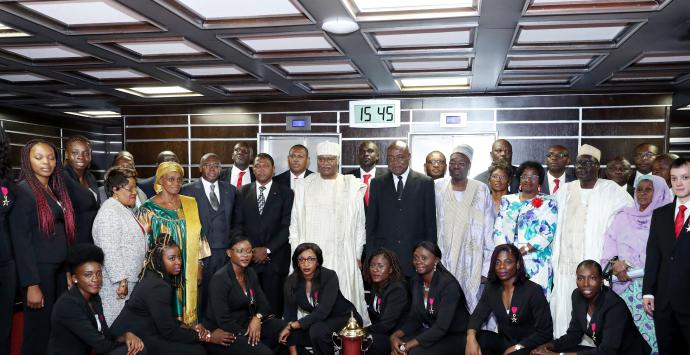 The gold medallists of the 2017 African Women's Volleyball Championship have been commended for making the country proud.
The National Women's Volleyball team won the championship that was organised in Yaounde from 7 to 14 October 2017 at the Yaounde multipurpose sports complex defeating Kenya at the finals.
On behalf of the Head of State, the Prime Minister, Philemon Yang, chaired the ceremony for the decoration of the national women's volleyball team at the Star Building. This ceremony was attended by the Minister of Sports and Physical Education, Bidoung Mkpatt, the Minister of Women's Empowerment and the Family, Marie Therese Abena Ondoa, many other members of government and sports officials.
The Indomitable Volleyball lionesses were all awarded the Knight of the Cameroon National Order of Valour, an indication of the Nation's appreciation of these valiant volleyball players, who are worthy ambassadors of Cameroon and Africa. All in all, 22 medals were awarded to the brave lionesses and their technical supervisors.
The National Women's Volleyball Team will be participating in the upcoming World Volleyball Championship scheduled for September 29 to October 4 2018 in Japan.
According to the team captain, Christelle Nana, this victory was brought about by the cohesion, discipline, unity and motivation of the players whose single goal is to keep the country's flag flying high in the international arena. She added "we understood that beyond our diversity, our linguistic and cultural origins, we are all daughters of the same Nation and that diversity is wealth". On behalf of the indomitable volleyball lionesses, Christelle Nana expressed her gratitude to the Head of State and Mrs Chantal Biya, for all the efforts made for their victory.
On his part, the Minister of Sports and Physical Education stated that victories such as that of October 2017 in Yaounde serve as an eloquent example of celebration of the Cameroonian concept of living together and national cohesion. According to Mr Bidoung Mpkatt, this victory is the symbol of sports excellence. He thanked the President of the Republic for the numerous facilities created to promote sports in Cameroon.
The Prime Minister, Head of Government, Philemon Yang, on behalf of the Head of State, expressed the gratitude and admiration of the Cameroonian people to the young volleyball players. He wished these flag bearers of Cameroon every success in theupcoming international competitions.