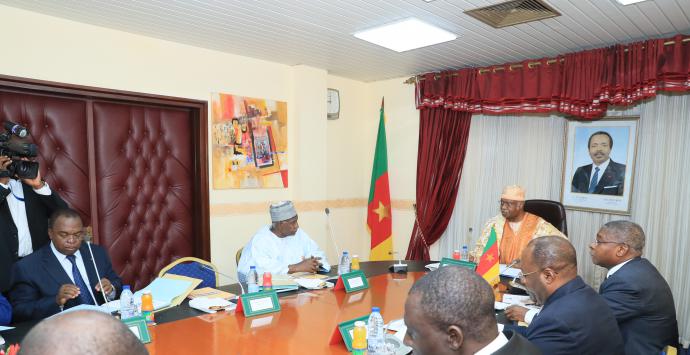 Sustainable tourism for development through the promotion and protection of the country's natural and cultural heritage was the main focus at the 17th session of the National Tourism Board chaired by H.E. Philemon Yang, Prime Minister, Head of Government, on 3 April 2018 at the Prime Minister's Office.
Four statements were made by the ministers of Tourism and Leisure, Bello Bouba Maigari; Environment and Nature Protection, Hele Pierre; Arts and Culture, Narcisse Mouelle Kombi, and the Government Delegate to the Yaoundé City Council, Gilbert Tsimi Evouna.
Cameroon ranks as the fifth richest African country in biodiversity. The country's rich cultural endowment and its attractive landscapes make it a fascinating tourist destination. The Minister of State for Tourism and Leisure, Maigari Bello Bouba, stated that at a time when the number of tourists is increasing exponentially across the world, Cameroon cannot afford to be left behind and must therefore work to improve this sector. He stressed the need for a sustainable programme to develop the tourism sector at the national level, which will increase the sector's contribution to the economy.
The Minister of Arts and Culture underscored the importance of cultural heritage to the country's attractiveness and the promotion of social cohesion. He also announced the publication of the first edition of the general inventory of cultural heritage and events.
The Government Delegate to the Yaoundé City Council, on his part, announced the eco-tourism project dubbed "Grand Yaoundé" which falls in line with the promotion of sustainable development. This project covers aspects such as the improvement of drainage systems, public gardens, the municipal lake, and the restoration of the Messa, Mbankolo and Yeye forests.
At the end of the deliberations, the Prime Minister, Head of Government urged all stakeholders to work in synergy for a sustainable tourism national strategy.