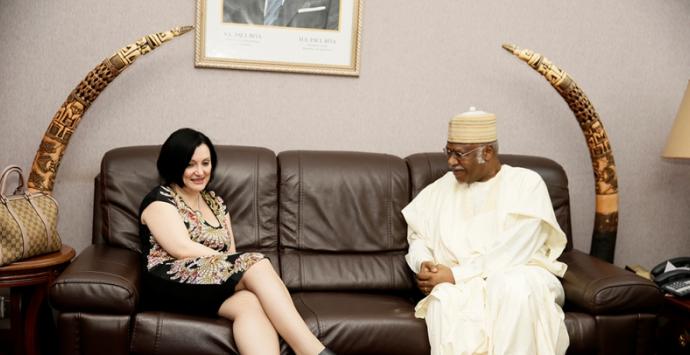 On Friday, 15 September 2017, Ambassador Samuela Isopi was granted a farewell audience by Prime Minister Philemon Yang at the Star Building. After a fruitful three-year mission, the outgoing Italian Ambassador to Cameroon reviewed cooperation between the two countries with Prime Minister Yang.
Speaking at the end of the audience, Ambassador Samuela Isopi, who had facilitated the establishment of Italian businesses in Cameroon, underscored the importance of the human factor in cooperation. She stressed the need to strengthen human relations which, she believes, constitute the basis of the partnership between Yaounde and Rome.
Her discussions with Prime Minister Yang also touched on the issues of security and terrorism, given that Italy has provided assistance to Cameroon in the fight against the Islamic sect, Boko Haram.
Ambassador Samuela Isopi, who will be remembered for her closeness to the Cameroonian people, takes along very fond memories of her stay in Yaounde.
The Italian Ambassador is moving to next door Bangui where she will serve as her country's Ambassador to the European Union.