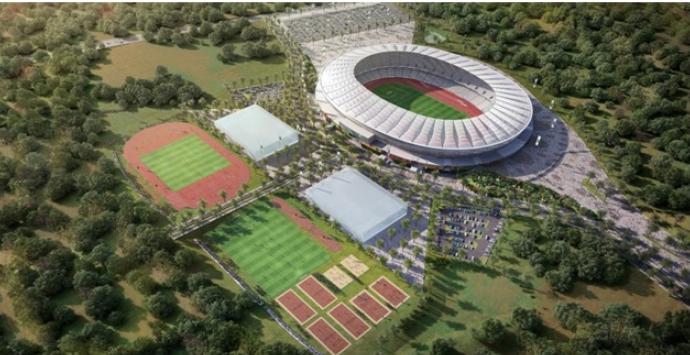 Description of the Project
Project name

NEW SPORT COMPLEX IN JAPOMA - DOUALA

Contractor

YENIGUN Construction Industry & Comm. Inc. - Ankara, Turkey

Client

Ministère de Sports et de L'Education Physique - Cameroun République

Funding

Jointly financed by:

Cameroun Government

Turkish Exim Bank (Lender)

Consultant

Leonardo Cameroun & Leonardo Progetti - Pisa, Italy

Contract value

(VAT not included)

232,000,000 USD - 139.200.000.000 XAF

(MARCHE Nº000040/M/PR/MINMAP/2015)

Contract signature

2015, December 31st

Commencement date

2016, January 6th

Contract works length

30 months (whole Complex)

End of works date

2018, July 4th (whole Complex)

Scope of works: The works for the New Sport Complex in Japoma (Douala) - Republic of Cameroon - shall include the design and the construction of the following structures:

Stadium for 50.000 seats with related Parking Areas (37.000 m2);

Sports Hall for 2.000 seats;

Olympic Swimming Pool for 1.000 seats;

Practice Fields (No.2);

Basketball Outdoor Fields (No.2);

Volleyball Outdoor Field (No.2);

Tennis Outdoor Courts (No.2 concrete and No.2 clay).
Contract's state
Original Contract value

232,000,000 USD - 139.200.000.000 XAF

No. of Variation Orders

Variation 1 (N.000001 AV/PR/MINMAP/2017 dated 2017 July 13th): needed to insert in the original contract the correct Yenigun Bank Account reference.

Variation 2 (N.000003 AV/PR/MINMAP/2017 dated 2017 August 23rd): needed to change some financial issues to receive contract loans by Turkish EXIM Bank.

Value of Variation Orders

0 USD - 0 XAF

Revised Contract Value

The same of the Original Contract

Revised Finish Date

The same of the Original Contract

% Elapsed Duration (actual)

35%

 

 

Supervision Contract value

8,333,333 USD - 5.000.000.000 XAF

Supervision Contract signature

2013, July 17th

Addendum supervision

No Variation Orders

Addendum contract signature

No Variation Orders
Actual works started on February 2017.
Main items of the project are as follows:
Summary of the main components of the project
| | | | |
| --- | --- | --- | --- |
| Description | Total (XAF) | Total (USD) | % |
| Mobilization | 4.876.039.848 | 8,126,733 | 3.50 |
| Stadium (50.000 seats) | 119.317.742.070 | 198,862,903 | 85.72 |
| Sports Hall (2.000 seats) | 5.349.720.960 | 8,916,202 | 3.843 |
| Olympic Swimming Pool (1.000 seats) | 6.217.341.120 | 10,362,235 | 4.466 |
| Practice Fields (2) | 2.297.576.070 | 3,829,293 | 1.65 |
| Basketball Field | 48.472.656 | 80,788 | 0.035 |
| Volleyball Field | 46.508.394 | 77,514 | 0.033 |
| Handball Field | 46.508.394 | 77,514 | 0.033 |
| Tennis Fields (4) | 907.378.104 | 1,512,297 | 0.654 |
| Multipurpose Fields (Volleyball & Handball) | 92.712.384 | 154,521 | 0.066 |
| TOTAL | 139.200.000.000 | 232,000,000 | 100.00 |
Particularly, it has to be made clear that the production has been focused on realizing the Stadium and the two annexed training fields, in order to achieve the aim to be ready for playing CAN 2019 games. That's why the works completion date has been fixed at the end of September 2018 only for Stadium and training annexed fields without any actual reference to the contract's contents.
Trend of works
Download in PDF the table of trend of works
Trend of total works corresponds to about 14.00% of the works of the Stadium
Weather conditions
During the whole month of October 2017 weather conditions have not affected trend of works. Rainfalls have been even heavy, but not unexpected (rainy season in Douala cannot be considered as an unexpected event). Anyway, all piling works (deep foundations) have been slightly made more difficult for the massive existence of water and mud inside the pile holes. For this reason pile holes walls have been prevented against collapsing with metal pipes, extracted while pouring concrete inside pile holes.
Problems encountered
The problems encountered in October 2017 are normal usual problems related to construction works: materials, equipment, safety instructions, … None of these usual problems has affected trend of works.
Mobilization and General
Mobilization/General/site construction's activities/supplies are almost completed (official percentage: 83%). The only parts remaining are those ones connected with future concrete precast production (under construction - at 70% of completion) and with all dormitories for Turkish workers (almost completed).
Concrete batching plant is operating as well as local laboratory for testing materials (concrete and steel above all).
Earthworks (Stadium)
Excavation in Stadium area is:
completed in the West side

essentially completed in the North side (98%)

underway in the East side (90%)

underway in the South side (90%)

underway in the central area/soccer field (90%).
Concrete Works (Stadium)
Current works related to this item can be described as follows:
Foundations works: deep foundations (piles) can be considered almost completed (only East side hasn't been completed yet), while surface foundations are going on in all areas except for the West one, in which they have been already completed.

Above-ground elevation works: these works essentially mean grandstands for spectators and slabs for various levels. These works are going on only in the main central West side of the Stadium.
Average (monthly) manpower/personnel report
SUMMARY

TURK

LOCAL

TOTAL

DIRECT

INDIRECT

DIRECT

INDIRECT

DIRECT + INDIRECT

YENIGUN

153

92

232

84

561

RENT EQUIPMENT

 

 

14

15

29

GENERAL TOTAL

153

92

246

99

590

 

YENIGUN ACTIVE

 

145

 

88

 

230

 

83

 

546

RENTAL EQUIPMENT ACTIVE

 

 

14

15

29

GENERAL ACTIVE TOTAL

145

88

244

98

575