As part of his visits to the construction sites of the three-year emergency plan launched last week in Ebolowa, Prime Minister Philemon Yang was out again yesterday, 14 February to visit the sites of Yaounde.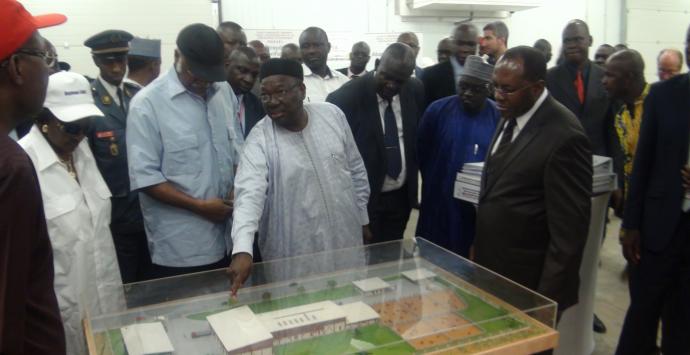 His journey was marked by seven steps. He started with the Yaounde General Hospital where the infrastructure and the technical facilities are undergoing renovation. The works had progressed by 5%, and as explained by the Minister of Public Health, André Mama Fouda, this slow pace is to ensure the quality and type of material and equipment to be used. On the other hand, André Mama Fouda ensured that on-going works would not hinder the functioning of this reference health facility. Works will probably be completed next December.
A stone throw away, the PM's motorcade went to the refrigerated cold store of the Development and Animal Production Company (SODEPA) in Etoudi.  According to the Minister of Livestock, Fisheries and Animal Industries (MINEPIA), Dr TAIGA this 6000 m3 infrastructure, it is expected to be delivered in the weeks ahead. He also expressed concerns on the access road to the site. However, the PM reassured him that instructions were given for a short-term solution to this problem in the second phase of the project.
The third and fourth steps of his tour had strong security undertones. He stopped at the Gendarmerie in Nkolkondi neighbourhood, an area prone to crime. This area required Government attention to bring the gendarmerie closer to the population for better security. The level of realization of administrative building and on-call housing is advanced. Yaounde should host about ten of such, six in Douala and twenty-five others across the rest of the country.
The Tsinga police station met the same security and administrative requirements.
Further to the west of the capital, in the Simbock neighbourhood, the PM went to assess works on the access roads to the War College and the roundabout in the same neighbourhood. These works are aimed at decongesting traffic which is very tight at certain hours. The Minister of Housing and Urban Development, Jean Claude Mbwentchou, said that the work is 67% complete. The tour ended with the Mvog-Atangana Mballa-Mvog-Mbi stretch of road. Here too, work is almost complete, except for a few finishing touches.
The Minister of Urban Development highly recommended a sense of citizenship to local residents who were already settling there anarchically, throwing garbage, selling goods on pavements and side-walks.
As soon as he returned to his office, the Head of Government held a working session with officials of companies in charge of executing these various works. He prescribed speed and performance, while insisting that the deadlines set for this end of year should be respected.