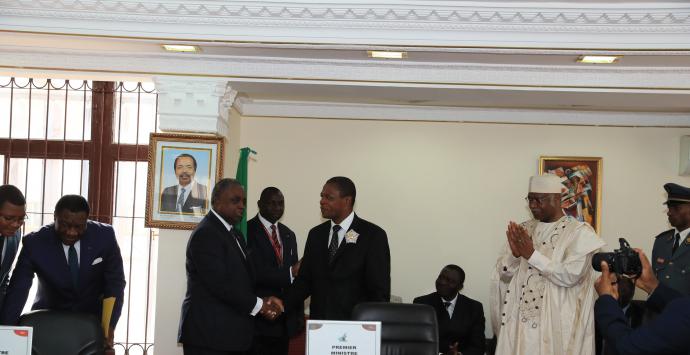 The eleven new members of Government appointed by the presidential decree of 2 March 2018 were commissioned by the Prime Minister, Head of Government, Philemon Yang on 5 March 2018. He urged them to work as a team, to be selfless and to be loyal to State institutions.
The exercise kicked off with the commissioning of Paul Atanga Nji, former Minister in charge of special duties at the Presidency, now Minister of Territorial Administration.
In the same building, the Minister of Decentralisation and Local Development, Georges Elanga Obam, was commissioned at the head of this new ministry which was formerly a department of the Ministry of Territorial Administration and Decentralisation. Prior to his appointment, he was a Technical Adviser at the Prime Minister's Office and coordinator of the three-year emergency plan. It is now incumbent upon him to lead the country's decentralisation process which is considered by many as the solution to current governance issues.
At the Ministry of Finance, there was a swap between Alamine Ousmane Mey and Louis Paul Motaze who now heads the Ministry of Finance alongside his former Minister Delegate at the Ministry of the Economy, Planning and Regional Development, Yaouba Abdoulaye. He is expected, amongst other duties, to implement the agreement with the International Monetary Fund in June 2017 which entails several major reforms.
Alamine Ousmane Mey on his part, now at the helm of the MINEPAT, was commissioned with Minister Delegate Paul Tassong, who is returning after serving as CEMAC commissioner.
The new Minister of Forestry and Wildlife, Jules Doret Ndongo, former minister delegate at MINATD and former Secretary General at the Prime Minister's Office, replaces Ngole Philip Ngwese.
The Prime Minister thereafter installed the Minister of Transport, Ngalle Bibehe, the Minister delegate at the Ministry of External Relations in charge of Relations with the Commonwealth, Felix Mbayu, the Minister of Public Service and Administrative Reform, Joseph LE, and the Minister of Secondary Education, Nalova Pauline Lyonga, who is the only female appointee.